The Telomere Effect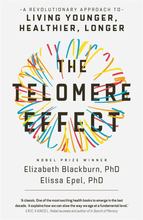 Stock information
: $33

.00

(AUD)

: 9780297609230
: Orion Publishing Group, Limited
: Weidenfeld & Nicolson
:
: 0.542
: August 2016
: 32.99
:
: January 2019
:
: books
: Dr. Elizabeth Blackburn
:
: Paperback
: 1
:
: en
: 320
:
:
9780297609230
Description
Groundbreaking book by the Nobel Prize Winner who discovered telomeres, telomerase, and their role in the aging process, and the psychologist who researched specific lifestyle habits to protect them and slow down disease and lengthen life. Have you wondered why some 60-year olds look and feel like 40-year-olds and why some 40-year-olds look and feel like 60-year-olds? While many factors contribute to aging and illness, Nobel Prize-winning Doctor Elizabeth Blackburn discovered biological markers, called telomerase, the enzyme that replenishes telomeres, which protect our DNA Dr. Blackburn discovered that the length and health of one's telomeres provides a biological basis for the long hypothesized mind-body connection. But perhaps more importantly, along with leading health Psychologist, Dr. Elissa Epel, discovered that there are things we can do to improve and lengthen our telomeres to keep us vital and disease-free. This book will help people increase the reader's lifespan and health-span (the number of years during this time that they remain healthy and active), including information on how sleep, exercise, and diet profoundly affect our telomeres, and how chronic stress can eat away at our telomeres. Included are lists of which foods are healthy for our telomeres; how aging begins in utero: mothers who are highly stressed during pregnancy have children with shorter telomeres, and how thinking you are young and vital helps keep you that way!
Reviews
Blackburn won a 2009 Nobel Prize for her discovery of telomeres: caps at the end of each strand of DNA that play an essential role in the ageing process. Epel is a psychologist who researches specific lifestyle habits which protect our telomeres, thus slowing down disease and lengthening life. In this compelling scientific guide, these eminent experts set out the things we can do to keep us vital and disease-free, from which foods to eat to the power of our minds over matter -- Caroline Sanderson SUNDAY EXPRESS The Telomere Effect, however, is worth more serious attention. It is co-authored by Elizabeth Blackburn, a Nobel Prize winner for her research into telomeres, the part of our chromosomes that determine how quickly our cells age and die. This is her attempt, along with the health psychologist Elissa Epel's, to translate the scientific lessons thus learned into 'language for the general reader'. She has done a compelling job. The book's central message is that telomeres shorten as we age, and this underlying mechanism contributes to most diseases of ageing. The good news is that your lifestyle choices can do a lot to counteract it ... the argument here is refreshingly sensible and convincing. I predict that the T-word will soon be on everyone's lips. -- Jenny McCartney THE MAIL ON SUNDAY
Author description
Dr Elizabeth Blackburn was awarded the Nobel Prize in Physiology or Medicine in 2009 for her discovery of telomeres and their role in the ageing process. She has previously been named in TIME magazine's 100 Most Influential People. Dr Elissa Epel is a leading health psychologist who has conducted pioneering research uncovering the psychobiological mechanisms related to how stress ages us and compromises our health-from emotional eating to unhealthy storage of abdominal fat to telomere shortening.